Freshly baked baguettes
Extensive range of ingredients
Your choice of combinations
---
---
That's right! You design your lunch and we'll make it.  After all, you're the one who'll be enjoying it!
Simply tell us:
a) whether you'd like freshly-baked baguettes, wraps, paninis or croissants.
b) which ingredients you'd like.
c) any extras you need.
Then we'll serve it. Simple as that.
You'll have a delicious range of ingredients to choose from, freshly prepared each morning. And our breads are baked on the premises throughout the day, along with a variety of tasty treats.
So don't hold back - express yourself! The lunch you've always wanted is waiting right here.
Open Monday - Friday 7 AM to 4 PM
Saturday 9 AM to 3 PM                                             Sunday 10 AM to 2 PM
For orders placed before 11 o'clock e-mail us at food@labaguetterie.co.uk
** Weather bad, or no time to visit?? **
Pre-order your lunch in the morning and avoid the queues! Orders can be taken either by e-mail or by phone.
Orders can either be collected from the shop or delivered by Nemo our van – great for a rainy day!
Payment may be made either in cash or card at the shop or in cash to the driver if delivered, or by phone to the shop on your credit or debit card.

Local deliveries of 3 miles and under – delivery free for any order over £10
Extended orders in the locality but over 3 miles – delivery free for any order over £20
Orders received after 10 AM cannot be guaranteed for delivery before 12:30 PM

For regular orders, please contact the shop for special terms and conditions.
Now open 7 days a week and
We now have credit card payment facilities -
great for paying for your e-mail orders or that little extra treat!!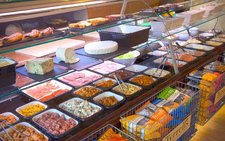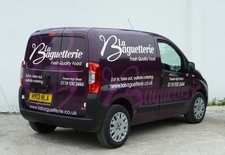 La Baguetterie, The Clock House, 22-24 The High Street
Theale, Reading, West Berkshire, RG7 5AW
Tel: 0118 930 2444

All items subject to VAT when eating in