Freshly baked baguettes
Extensive range of ingredients
Your choice of combinations
---
---
That's right! You design your lunch and we'll make it.  After all, you're the one who'll be enjoying it!
Simply tell us:
a) whether you'd like freshly-baked baguettes, wraps, paninis or croissants.
b) which ingredients you'd like.
c) any extras you need.
Then we'll serve it. Simple as that.
You'll have a delicious range of ingredients to choose from, freshly prepared each morning. And our breads are baked on the premises throughout the day, along with a variety of tasty treats.
So don't hold back - express yourself! The lunch you've always wanted is waiting right here.
Open Monday - Friday 8 AM to 2 PM for take away and collection at the door, email and phone orders only
Saturday Currently closed                                  Sunday Currently closed
For orders placed before 11:30 e-mail us at food@labaguetterie.co.uk
** Weather bad, or no time to visit?? **
Pre-order your lunch in the morning and avoid the queues! Orders can be taken either by e-mail or by phone.
Orders will be delivered by Nemo our van – great for a rainy day!
Currently, payment must be made by phone to the shop on your credit or debit card.

Local deliveries of 1 mile and under – delivery free for any order over £3
Extended orders in the locality – delivery free for any order over £20
Orders received after 10 AM cannot be guaranteed for delivery before 12:30 PM

For regular orders, please contact the shop for special terms and conditions.
During the COVID 19 crisis open
Monday - Saturday
From Saturday 27th June we will be
open 10 - 2 on Saturdays
Now open from 8 to 3 weekdays for Take Away, Collection and deliveries to Home or Work
.
**Treat yourself to an Afternoon Cream Tea
see our Menu page for details**
Deliveries free to Theale, Calcot and lower Tilehurst, a small charge for upper Tilehurst and further destinations

Card payment only (no cash) at the shop or over the phone
(No AMEX).
Enjoy our coffee? Buy a 500g big bag of 100% Rainforest Alliance Certified coffee beans for just £9.00 delivered

Very fresh Beechwood Farm local free range eggs
£1-50 per half dozen medium eggs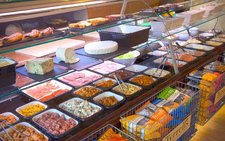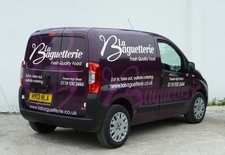 La Baguetterie, The Clock House, 22-24 The High Street
Theale, Reading, West Berkshire, RG7 5AW
Tel: 0118 930 2444

All items subject to VAT when eating in